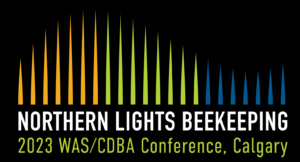 Calgary, Canada | Friday, Saturday, and Sunday
 September 29 – October 1, 2023
Everyone likes a good conference. Western Apicultural Society (WAS) is coming to Calgary for the first time in a couple of decades. We have partnered with the Calgary and District Beekeepers Association (CDBA). Please join us in Calgary this fall (September 29 – October 1) for a yahoo-ing good international conference and trade show! Register now to receive the Early Bird rate!
Over its 45-year history, WAS has built a large community of beekeepers from 14 western states, 3 provinces, and the great Yukon Territory. WAS members meet to educate and encourage beekeepers who often endure similar western challenges – mountains, frequently sparse rainfall, irregular Pacific currents, distant marketing, and scattered customers. This year, the annual WAS Conference and Trade Show is taking the uniqueness of geography a step further with a focus on The North. The theme, Northern Lights Beekeeping, will focus on beekeeping in the land of long summer days and cold winter nights.
Although many presentations will include universal aspects of care, production, and marketing, several popular speakers with specifically northern beekeeping experience will be entertaining and educating us. The conference includes two days of presentations, a day of workshops, trade show, banquet, local tours, mingling, and endless bee-talk.
Trade Show: https://www.westernapiculturalsociety.org/tradeshow
Details are posted on the WAS website: https://www.westernapiculturalsociety.org/2023conference