With Panelists:
Dr. Medhat Nasr – SBDC – Technology Adaptation Program Lead and former Alberta Provincial Apiculturist
Ron Miksha – University of Calgary researcher, badbeekeepingblog.com blogger and former CDBA president
and
Neil Bertram – commercial beekeeper, beekeeping instructor and former CDBA treasurer
LOCATION: TBD
Bring all your beekeeping questions and have them answered by experts with over 125 years of combined beekeeping experience.
Panelist Biographies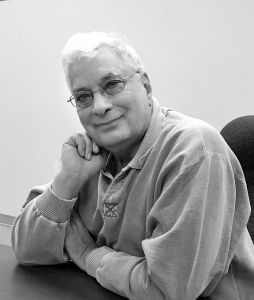 Dr. Medhat Nasr is a highly regarded apiculturist, educator and regulator with over 45 years of experience in both the public and the private sector.  Currently, he is the Technology Adaptation Program (TAP) Lead with the Saskatchewan Beekeepers Development Commission. In Alberta, he served as Alberta Provincial Apiculturist from 2002-2019. During this period, he extended the regulatory-program to include applied bee research and extension activities. In 1994 he introduced and established the first "Bee Tech-Transfer program" in Ontario. He served as Ontario Beekeepers Tech-Transfer program lead from1994-2000. This program was the first in North America that was used as a vehicle to do applied research and directly transfer technology to beekeepers. He worked as Assistant Professor and Extension Apiculturist at Rutgers University, NJ, USA from 2000-2002.
Dr. Nasr expertise encompasses a wide diverse range of skills including bee pest management, beekeeping management, bee breeding, nutrition, bee diseases and pests, and technology development, adoption and transfer.  His research program resulted in breeding tracheal mite resistant bees and developing effective application methods and registration of formic acid for tracheal and varroa mite control (i.e. MiteWipe, Mite_Away, and Mite_Away2), oxalic acid, HopGuard2 and Apivar® for Varroa treatment in Canada. Currently, his research is focused on developing new alternative miticides for Varroa control, managing miticides resistance, evaluation of integrated pest management (IPM) programs, and selection and breeding quality bee queens.
He received numerous awards for his contributions to the apiculture field in Canada and the USA. In 2019 was awarded by the Canadian Honey Council "Willy Baumgartner Memorial Award" for outstanding contributions in improving the Canadian beekeeping industry. In 2018 he was awarded "Outstanding Service Award" by the Canadian Association of Professional Apiculturists (CAPA). He was awarded "Roger A Morse Teaching, Extension, Regulatory Award" by the Eastern Apiculture Society, USA in 2015 and he was also awarded "Fred Rathje Memorial Award" by the Canadian Honey Council in 2010. He also received several awards from Alberta Agriculture and Forestry for carrying successful projects for serving the beekeeping industry in Alberta. Dr. Nasr was awarded a life membership in several beekeeping associations across Canada and USA. Most recently, Dr. Nasr served as "President of the Canadian Association of Professional Apiculturists (CAPA)" from 2013 to 2017. Currently, he is a member of the executives of CAPA.
Dr. Nasr graduated from Cairo University, Giza, Egypt with B. Sc. and M. Sc. degrees in Entomology. He earned a Ph. D. degree in Entomology from University of California.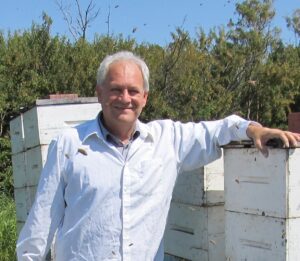 Ron Miksha is a bee ecologist at the University of Calgary. We writes frequently for American Bee Journal, Beekeepers Quarterly, BeesCene, and ABeeLanding Board. He helps teach the CDBA beginners' beekeeping course and was a past president of the bee club. Formerly a commercial beekeeper, Ron keeps two backyard hives in Calgary.
Neil Bertram grew up on a grain, cattle and commercial honey farm in Manitoba where he spent winters hunting and trapping in the area. Neil obtained a Diploma in Machine Shop from Assiniboine Community College in Brandon, MB. He has been a welder, owner and operator of a sawmill business, leech trapping business and part-time professional hunting guiding. He spent 10 winters commuting to Saskatchewan and Alberta to work winters in the oilfield for Schlumberger Oilfield Service to help grow his own commercial honey farm back in Manitoba. Neil grew the size of his farm up to 700 hives before moving to Alberta. Now, he has an acreage with about 300 hives near Trochu, Alberta, which is operated entirely off the grid. Neil has been working bees for over 30 years. Neil is a past treasurer of the Calgary and District Beekeepers' Association.