Calgary Urban Beekeeping Guidelines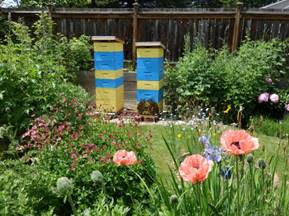 The guidelines were developed in collaboration with the City of Calgary, By-law Enforcement and Alberta Apiculture. See  the  Calgary Urban Beekeeping Guidelines July 2017 document on your screen and download a copy.
Thinking of starting beekeeping in southern Alberta? Here are a few important first steps, before you start looking for bees and equipment. Check out regulatory requirements for all levels of government that apply to bees in your area.
Contact the Provincial Apiculturist Office for registration information.
Contact Club members or attend the next scheduled Club meeting.
Take a beekeeping course See our listing of courses in the Coming Events section.
Read lots and visit as many websites as you can! There's a vast amount of beekeeping information out there and the more you read the better you will understand the joys and complexities of bees. See the "Beekeeping Resources" section on this website to get you started.
Below is a summary of local, provincial and federal government regulations for area beekeepers:
Local and municipal
The City of Calgary has introduced beekeeping by-laws as part of the Responsible Pet Ownership Bylaw (effective January 1, 2022) which includes permitting requirements for all beekeepers within the City.  The City also has a set of guidelines. Bylaw Enforcement will respond to complaints, which are usually related to swarms or wasps See "Swarm Catchers". Commercial beekeeping requires a business license. Rules and regulations about bees vary in communities surrounding Calgary. Check local bylaws. For those in the CITY OF CALGARY see the new Responsible Pet Ownership Bylaw and the Calgary Urban Beekeeping Guidelines July 2017 which was developed in collaboration with Calgary & District Beekeepers Assn, the City of Calgary by-law enforcement and Alberta Agriculture. We invite you to download both and study them carefully.
Provincial
Anyone who keeps bees or owns unused hives must register with Alberta Agriculture every year by June 30. Registration is FREE. In Alberta, the Bee Year is July 1 to June 30. This may be different in other provinces. Registration details for the current year can be found here.
The Provincial Apiculturist for Alberta is Samantha Muirhead, whose department is the epicenter of regulation (Samantha.Muirhead@gov.ab.ca). They also regulate the distribution of honey through selected farmers' markets, and farm gate sales. Alberta Agriculture is very involved with beekeeping throughout the province. You can read the Alberta Bee Act and Regulations, which are available as 2 downloadable documents. (Bee Acts and Regulations).
When establishing a location in Alberta, beekeepers must obtaine a PID: Premises Identification number and register at least one location. This is regulated by the Tracability Branch of Alberta Agriculture. You are welcome to download the ARD-BeeKeepers and PID 12 12 2014.
Federal
Beyond farmers' markets and farm gates sales, the Canadian Food Inspection Agency (CFIA) regulates the distribution of honey into Canada's food supply. CFIA regulates the Import, Export and Interprovincial movement of honey products including product intended for exhibition and competitions. Honey produced in other provinces and sold anywhere, farmers market or elsewhere, in Alberta is regulated by the CFIA. Likewise honey produced in Alberta and exported and sold in other provinces is regulated by the CFIA.
Alberta Agriculture has more information for beginners.
Backyard Beekeeping: Notes on keeping bees in Urban and Suburban Neighbourhoods
---
Residential Beekeeping: Best-practice guidelines for nuisance-free beekeeping in Oregon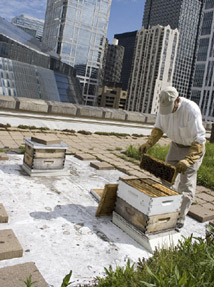 https://catalog.extension.oregonstate.edu/em9186/html
Andony Melathopoulos, Ralph (Mike) Rodia, Jen Holt, Ramesh R. Sagili
This publication outlines guidelines for best practices for beekeeping in residential areas. It outlines the steps residential beekeepers can take to operate their bees in nuisance-free manner.
---
How to start beekeeping in Calgary
New to beekeeping, and overwhelmed by choice?
This document provides a simple and accessible starting point that will leave you well positioned to grow later.
Download PDF (51 kb)  How to start beekeeping in Calgary
---
Purchasing honey bees or equipment in Alberta
There are many places to purchase bees within Alberta; however, it is a buyer-beware market. Even when purchasing from a reputable source it is important to ask questions and understand what to look for, even when only purchasing equipment. It is imperative you do your homework before purchasing bees.
Download PDF (103 kb)  Purchasing Honey Bees or Equipment in Alberta